#86: December - Christmas theme for your Country
Twist - explain the theme in your blog
Some countries have particular themes around Christmas
Some families also have particular themes bought from the old country to the new one
eg: threepence and sixpence coins in the pudding even though Australia now uses dollars and cents
(You can actually purchase special tokens and coin sets still here)
I am sure you can find time for a little fun and join in here
One of our's is that the reindeer get a rest in Australia
There are six white kangaroo's to take their place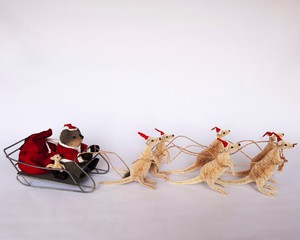 Remember: you can scrap; make a card or tag; or do off-the-page items and 3D stuff
for this challenge as long as you DON'T USE STAMPS!
Last one for the year so let us see what you can do!
There is a prize:
Here is some inspiration to get you going!
USA -- Ugly Sweater Christmas Parties
(ED: Congratulations to CG too on just crafting the most beautiful little baby boy - all well:what a lovely Christmas present for the family!)
6 White (black) Boomers!!!!